How can we make Moroccan Mhancha easily at home ?
              Meknes, a Moroccan city, located on the Sais between the Rif mountains and the Mediterranean Atla. Meknes is one of the most important Moroccan cities in terms of agricultural production and is also known as olive cultivation. In this beautiful Moroccan city , its locals , like other Moroccan cities , are used to taking advantage of the occasions of religious festivals ,  national holidays and holidays to create an atmosphere filled with joy , pleasure and  good mood . As  well as maintaining family  relations and Moroccan rituals and traditions .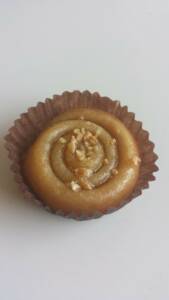 The Moroccan Mhancha is easy to prepare . Using simple and accessible ingredients  , such as (Pastilla leaves ,  peeled almonds , sweet sugar ,  honey , orange blossom water , gum Arabic or pure  musk , butter and  eggs ) , and like most Moroccan sweets, they are consumed with mint tea during a family evening and family gatherings . 
             Mhancha is a Moroccan dessert that first appeared in the city of Meknes . It is called  in reference to its circular shape. The name  Mhancha came from the word  \"Hanch\"  which means the snake in  Darija  . This dish ,  which is a pie stuffed with almonds  and scented with flower water and honey and can use Pastilla paper/ leaves which are good  pastries .  
         First of all , we will talk about almonds and their benefits for the body  . This ingredient present in most  recipes of Moroccan sweets  .

Almonds can be identified among thousands for their flavor  with their pretty ovoid shape and  their color varying from green to brown.
In a few decades , its consumption explodes and democratizes  all over the world . Excellent news  because now , we know its many nutrition and health assets .
 The main characteristics of almonds .
Rich in unsaturated fatty acids .
Source of vegetable proteins .
Helps reduce cholesterol naturally .
Promotes cardiovascular health and  transit .
Excellent source of essential micronutrients .
     Almonds benefit from a complete and unique nutritional profile . That\'s what  makes it so interesting .  
Among the essential nutrients for body health found in almonds are the following :  
Magnesium , which is a protein builder
Copper, which is necessary for  the formation of collagen.
Vitamin B2 , just like vitamin B1 which plays a role in the energy metabolism of all cells .
Vitamin E, this vitamin protects red blood cells and white blood cells .
Iron Almond and almond butter are good sources of iron .
Calcium, it maintains blood pressure .
Now that we know all the benefits that almond has,  let\'s move to Mahncha \'s recipe.  This  Moroccan sweet  which is widely requested in the city of Meknes.  
First of all, here is the list of ingredients you will need.
250 g of roasted peeled almonds  .
100 g of peeled almonds .
150 g of melted butter .
200 grams of sweet sugar .
2 tablespoons of orange blossom water  .
150 grams of honey  .
2 egg yolks .
1 teaspoon of ground cinnamon  .
A cup of gum arabic or pure musk  .
6 pastry chips (Pastilla leafes).
Method of preparing Mhancha:  
In a saucepan filled with  water , boil 100 grams of almonds for 5-8 minutes 
2- Drain the almonds,  then after removing their  skin dry them.  
3- Let them  cool and add the toasted almonds .
4- In the food  processor, put the previous mixture, add  honey, egg yolk, cinnamon and flower water and mix well until the mixture becomes homogeneous .  
5- Place a layer of dough longitudinally as shown in the image below on top of the melted buttered Pastilla  sheet.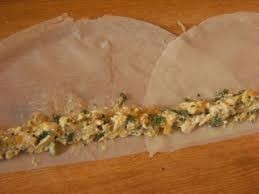 6- Roll it  up by forming a spiral,  then put the Mhancha in a tray covered with butter paper.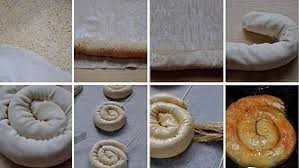 7- Grease the dough from the surface with a layer of yolks from an egg .
8- Preheat the oven to 200 ° C.
9- Bake for 15 minutes.
10- Heat in a bowl a little honey with a little bit of orange blossom water
Sprinkle your cake with the syrup you have prepared. Do it before it cools down.
You can also sprinkle it with sweet sugar and a little cinnamon .
And here it is ready  .
        The almond Mhancha is a dish that is easy to make , delicious and does not require the use of  many ingredients. 
Share the recipe with your friends by challenging them . Post the photos of the MHANCHA that you are going to prepare using a hachtag .  
We will then share the photos of the winners of the challenge #MHANCHAMAROCAINE accompanied by their social media pages. 
Good luck to you and bon appétit!