Moroccan Cuisine… A Thousand and One Flavors!
A Moroccan dish is an invitation to all the senses…
Looking back to my childhood, I remember our family meals well – the good laughs, the children running around, and most of all, the wonderful smells emanating from the kitchen. I recall the richness of our meals in terms of taste, dishes, and flavors. It was and still is a truly delicious journey between salty and sweet.
My mother had a special touch in the kitchen, especially since she cooked with love! I was lucky enough to discover with her the wonders of our cuisine.
But I always had questions in my mind. Where does this diversity come from? And why is Moroccan cuisine considered an international gastronomy?
Diving into the Moroccan delights, which are undoubtedly the most refined in the Maghreb and the heirs of a long history of cultural mixing, the Moroccans were known over the centuries as masters in the art of balancing spices, given the impressive number of spices integrated into their dishes. The emblematic dish of this ancestral know-how is the tajine.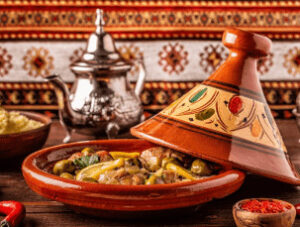 Moroccan Cuisine:
It is said to have been born from the marriage of different culinary traditions around the 12th century. The first inhabitants of Morocco, the Berbers, then conquered the Arab, Jewish, and Andalusian Muslim space.
The tajine is a slow-cooked stew, but its name also refers to a terracotta dish that allows cooking without water or fat, preserving the natural flavor of the ingredients.
All the art of the tajine lies in the balance of the spices, which take an essential place in Moroccan cuisine, and it still testifies to this cuisine's extreme refinement to this day.
Over time, Moroccans have developed a repertoire of aromatics with a thousand nuances. Today, Ras el Hanout, for example, contains up to 50 different spices!
Here are the most famous traditional dishes in Morocco:
Pastilla: is undoubtedly the emblematic dish of Moroccan celebrations. Although the traditional recipe uses pigeons, chicken can be used according to preferences. For those who appreciate sweet and savory flavors, this dish will awaken thousands of sensations in you. It is essential to use cinnamon and orange blossom in the preparation, and sprinkle powdered sugar for the final decoration.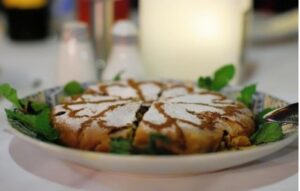 Couscous: with seven vegetables or onions and candied fruits remains the most common dish in the Moroccan family, the favorite dish of the French, and praised by the great chefs of the world, it is usually prepared on Fridays.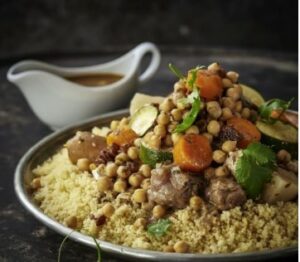 Harira: among the best-known soups and traditionally the dish for breaking the fast during the month of Ramadan and is usually accompanied by dates and small pastries (chebakiat, briwat..)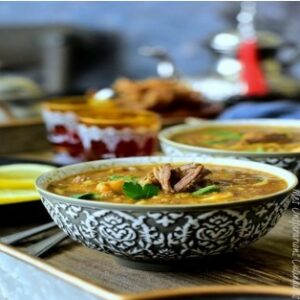 Chebakia: usually eaten during the month of Ramadan, it is one of the most popular cakes in Morocco recognizable by its ear shape.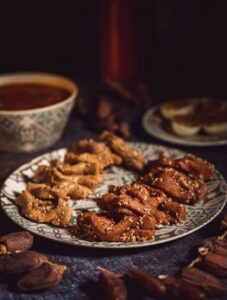 Gazelle horns: notably one of the most popular pastries recognizable by its curved shape, it is made of shortcrust pastry covering almond paste flavored with orange blossom and cinnamon.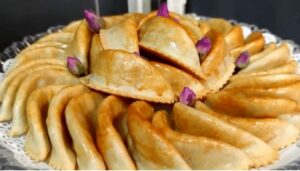 Mechoui: is a main dish in Moroccan cuisine, usually reserved for special occasions such as weddings or Eid al-Fitr. It consisted of a leg of lamb cooked in an earthen oven, traditionally used by Moroccan women. This dish is usually accompanied by sautéed vegetables to complete the feast.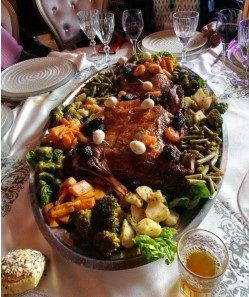 Seffa: called Angel Hair, is an essential traditional dish in every Moroccan family, whether it is also prepared in a sweet or savory version. This dish is a true mountain of pleasure, garnished with dried fruits, cinnamon, and powdered sugar for an extra touch of flavor. It is commonly used as a side dish or served as a dessert for a delicious meal.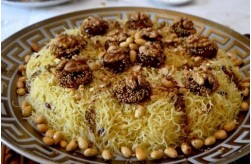 Tanjia : is a local specialty of Marrakech, which takes its name from the clay jar in which it is cooked. The preparation of this dish begins by placing pieces of lamb in it, before closing the jar with paper and string. This traditional cooking method requires several hours of slow cooking to allow the flavors to develop and create a tasty and tender dish.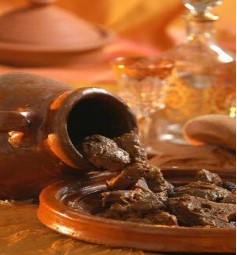 Rfissa : very thin msemen leaves cut into ribbons and drizzled with a chicken sauce flavored with lentils and fenugreek, which are a must for this recipe.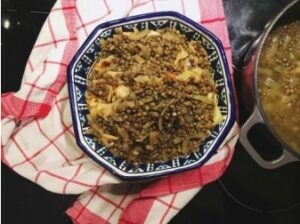 It is easy to understand why Moroccan cuisine often tops the rankings of the world's best cuisines. Indeed, this cuisine is renowned for its unique flavors and multiple influences that include Arab, Andalusian, Berber, and Asian cultures. This culinary richness is the result of ancestral know-how that has been passed down from generation to generation and is reflected in the variety of Moroccan dishes, each offering an explosion of flavors for the taste buds.
Moroccan cuisine is considered one of the best cuisines in the world, largely thanks to its ability to harmoniously blend flavors, aromas, and spices. By tasting a Moroccan dish, you discover an invitation to all the senses, a veritable culinary firework that offers a unique taste experience. This cuisine is therefore a real treat for fans of spicy and flavorful cuisine.
Do you want to experience Moroccan cuisine? Discover the recipes for our Moroccan dishes with Choumicha, the most popular Moroccan cook in the Arab world: https://www.choumicha.ma/