What is the simplest way to make Ghriba ?
           Moroccan pastries  are like clay , keeping the mark of our ancient ancestors . We have found in its flavors , ingredients and manufacturing secrets all the roots that have nourished Morocco since antiquity , the influence that colors its culture , and women , men and peoples together  .
          Incorporating Mediterranean ,  Oriental , Turkish , Andalusian and Jewish inspirations ,  the sweet sweet treats that dot the Moroccan table form an extraordinary sensory mosaic composed of successive layers .
          Therefore ,  the ancestors of the Berbers ate meringuées pancakes called Raghif or  Beghrir .  This cake based on  semolina , flour  and yeast , consumed hot , soaked in butter ,  honey  and  ALMONDS , always occupies  the center of the breakfast table .
         As for the desert peoples who arrived very early in Morocco from the deserts of Arabia and Iraq , they were buried in their luggage and stuffed on camels .The recipe for dates , spices , cereals and  cakes combined honey  , oil , sesames, pistachios  and  peanuts .  
             This is how the famous dry cake, Ghriyba was born , very appreciated in all family celebrations in Morocco .
           In the sixteenth century , the overall refinement of the Moroccan table reflects the Turkish influence . But from the 17th century , Muslim or Jewish immigrants from Andalusia provided Morocco with a new gastronomic current , in which olive oil , almonds and some new fruits and aromatic herbs prevailed .
         The British finally imported tea in the 18th century .  It has become a national artifact like the gazelle horn .  These  cakes  have a light croissant shape and a delicious heart made of marzipan with flavors of  cinnamon  and   blossom.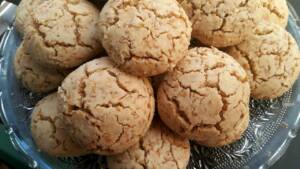 In Morocco , many people , it is not the vast majority  of people , celebrate national holidays,   religious holidays  through weddings too,  births, circumcision, birthdays, New Year\'s Eve as well as Women\'s Day and Valentine\'s Day, an opportunity to visit friends and lovers, which is also an occasion  where Moroccans make and practice one of their common hobbies which is,  the kitchen
Families cook the best dishes and  prepare all kinds of  moroccan cake and desserts , among the exotic biscuits of Moroccan cuisine we find the ghriyba ,  which is the main subject of this  article .
           Ghriyba or Bahela are  Moroccan biscuits  that take a  cracked round shape and are known to be a type of dessert that melts in the mouth,  accompanied  by mint tea and can also be served with coffee, a cup of  hot milk  or juice. It is a dry cake that does not contain  eggs and is made from simple and few ingredients (flour, sugar ,  OIL or butter and aromatic  cinnamon  and  sesame seeds) and this biscuit is  considered as an easy dish  to prepare and is therefore very popular in Morocco.
By what is known about  the  Ghriyba and what is its particularity?
           What makes it special is the cooking part.  To make these cookies,  we may not  follow exactly the recipe of  ghriba bahla  because they are cracks, but these beautiful cracks appear on the surface. It\'s all about  cooking. This one is divided into two Finish: We first cook the cookies in static heat, only open the top of the oven until they crack  , then we open the bottom of the oven and continue cooking for a few minutes.
            Even if choosing a different form of ghriba,   it does not take anything away from the taste of this pastry ,  so you can cook the  cookies in the bottom oven to keep their pattern .
         If you are looking for a Moroccan dessert  that  warms your heart and gives you a feeling of joy, pleasure and  cheerfulness,  you are definitely looking for the ghriyba biscuit. 
        These cakes, are  a  pastry made in the Maghreb countries, especially in Tunisia, Algeria, Morocco, Egypt and the Middle East.  
The ingredients of this cupcake  vary, mays the name is the same  .
In Algeria, it's made by : 
Almonds are used in its preparation as well as  margarine, sugar and flour.
Ghriyba warka , used in their preparation  peanuts  wrapped in a fine paste .
Ghriyba with pistachios .
Ghriyba with nuts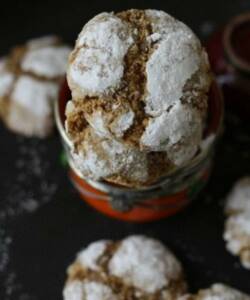 In Tunisia, it's preapared using : 
Ghriyba used in  its preparation, wheat flour.   
Ghriyba used in its preparation of corn flour  . 
Ghriyba used in its preparation of chickpea flour 
. 
In Morocco, we find:
Mlosa /  Maloza: a Ghriyba that is used almonds,  sugar and flower water in its preparation.
Ghriyba bahela.
Ghriyba with oil  . 
Ghriyba mremla.
     Now here is the recipe for you to make it in a house.
First of all, the ingredients:
500 g of flour .
125 g of melted butter .
13 cl  of touresol  oil.
125 g of fine sugar .
1 bag of baking powder .
75 g of sesame seeds without oil  .
1 teaspoon of salt .
1/2 teaspoon of cinnamon.
1 teaspoon of vanilla extract.
Method to prepare Ghriyba :
Place each of the ground sesame  seeds, butter,  oil, sweet sugar and vanilla in a bowl and mix well. 
2- Add a little  salt,  cinnamon,  flour and baking yeast and mix again until you get a homogeneous mixture and a homogeneous sand.
3- Knead the dough for 10-15 minutes in a bowl,  you can use the automated perineum or use only hands. 
4- Form small balls of dough and spread them on a baking sheet.
5- Bake the cookies in an oven preheated to 180 degrees for 5-10 minutes until they are cracked, then open the bottom of the oven and continue cooking until it is golden for about 15 minutes .
6- Allow to cool completelybefore removing it from the baking sheet.
And that\'s it, the Ghriyba is ready, let it cool down and then serve it with the mint tea .
What do you think of these cookies made in Morocco ?   Do not hesitate to share with us your makings in  comment.